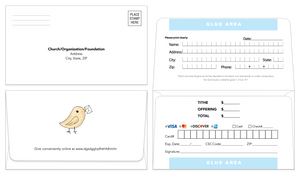 Click Image to Enlarge
Thank you for selecting Remittance Envelope Template 102. This template gives your potential clients a clear and hassle free form to fill out and can leave donations within.
Please keep in mind anything can be changed, removed, added on any template. Text, logos, designations etc. serve as suggestions and place-holders.

We will send a first draft within about 2 business days. Please note envelopes do not come with design service, they need to be ordered after your design is completed.
(If needed in Spanish or other language, please spell everything out!)
← Previous
Next →
See All